The two are not actually related, except for the presence of Felicity Jones.

Did anybody else see "The Unicorn and the Wasp"? It can be found on YouTube if you know where to look. My initial reaction to Felicity's performance was that it was rather forced and awkward, but a plot twist later on made it clear that it was supposed to appear that way.

In the Regency World Awards recently conducted by the Jane Austen Centre in Bath, Northanger Abbey (or more particularly, Andrew Davies) triumphed in the category of "Outstanding 'Jane Austen' contribution." However, I am completely flabbergasted that James McAvoy and Anne Hathaway won best actor and actress for Becoming Jane. Cute as the film may have been (emphasis on "may"), I feel that it was too inaccurate to be considered award-worthy in a competition such as this was. Humph. J.J. and Felicity deserved more recognition. Corresponding "annoyed" Catherine mood pic. I'm actually quite put-out myself, and I have a sneaking suspicion of a vast conspiracy on the part of the Jane Austen Centre, which evidently rounded up its minions to nominate www.janeausten.co.uk as "Best 'Jane Austen' Website."
Current Mood: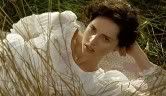 annoyed